Invitado de Retina y Vítreo: Dr. Rajat Agrawal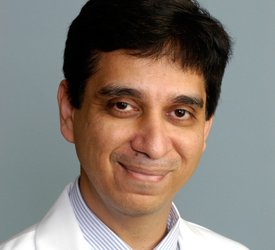 La comisión de Retina y Vítreo, coordinada por los Dres. Daniel Benisek, Alejandro Lavaque y Alberto Zambrano, confirmó la presencia del Dr. Rajat N. Argawal como invitado de honor para las Jornadas CAO 2016.
Breve CV (en inglés)
Dr Rajat N Agrawal, MD MS, is currently President & CEO of Retina Global, an international nonprofit that is focused on sustainable solutions in availability of retinal treatment in underserved areas around the world by providing clinical care and training. Before he took time off for Retina Global, he was an Adjunct Professor and an Asst Professor of Clinical Ophthalmology at University of Southern California (USC) in Los Angeles, Director of Retinal Degeneration Program and Co-Director of intraocular Implants at Doheny Eye Institute, as well as Attending Faculty Retinal Surgeon at Los Angeles County Hospital. Dr Agrawal is also the co-inventor and co-patent holder of ARGUS-II, the only medical device currently approved around the world for people with advanced retinitis pigmentosa. He was significantly involved in R&D, pre-clinical work, developing the surgical technique, as well as in clinical trials that spanned two continents and over 5 countries. He was also significantly involved in working with the regulatory experts in getting approvals in Europe and in the US, having earned a Masters degree in Regulatory Sciences.
Dr Agrawal received training in retinal surgery and management under the guidance of Dr S S Badrinath at the Medical Research Foundation (also known as Sankara Nethralaya) in Chennai, India. He was associated with the institution for over 7 years, where apart from clinical work, he also trained many fellows and residents. He was later invited to the Chinese University of Hong Kong to provide advanced retinal services, as well as train and supervise their fellows in retinal surgery, some of whom now are senior faculty in leading institutions in Hong Kong and other countries. He later accepted an invitation by the Government of Commonwealth of the Bahamas as Director of the Retinal Services & Co-Director in Department of Ophthalmology in Nassau, Bahamas. During this time, he was also the Residency Director for the Residents of Department of Ophthalmology at the Yale School of Medicine, who rotated via the Bahamas during their senior year.
Dr Agrawal is well known around the world for his clinical acumen, research interests, teaching and social commitment, for which he has been felicitated by various organizations.