"Myopia Symposium Argentina 2020", Saturday November 7th, 13:00 GMT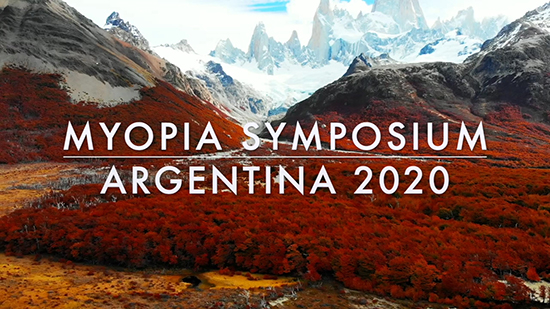 Versión en español en este enlace.
The "2020 Myopia Symposium in Argentina: What do we know about myopia? An update on basic and clinical research" will be held virtually on November 7, 2020.
---
Presentation
---
Sign up for free
Please visit our YouTube Channel: click in here.
---
Scientific programme
Moderators: Dr. Rafael Iribarren, Dr. Prof. William K. Stell, Dr. Prof. Calvin C.P. Pang, Dr. Prof. Carlos Kotlik and Dr. Prof. Andrzej Grzybowski.
"Myopia in Argentina", Dr. Rafael Iribarren (Iribarren Eye Consultants. Buenos Aires. Argentina).
"Josh Wallman and myopia research", Prof. Dr. Carlos Kotlik (Universidad Nacional de Cuyo, Mendoza, Argentina).
"Oscillations in normal refractive development", Prof. Dr. Jos J. Rozema (Department of Ophthalmology, Universitair Ziekenhuis Antwerpen. Belgium).
"Clinical course of school-age myopia", Prof. Dr. Pei-Chang Wu (Kaohsiung Chang Gung Memorial Hospital, Chang Gung University, Taiwan).
"Refractive error and illumance in kindergarten children", Prof. Dr. Yuval Cohen (Lecturer, Bar Ilan University, Israel, and Pediatric Ophthalmologist at Ziv Medical center, Zafed, Israel).
"Environmental causes of myopia", Prof. Dr. Ian G. Morgan (Australian National University, and Zhonshan Ophthalmic Center, Sun Yat-Sen University. Australia).
"Reading and Myopia", Prof. Dr. Frank Schaeffel (Section of Neurobiology of the Eye,Institute for Ophthalmic Research,Centre for Ophthalmology, University of Tübingen, Germany).
"Genetic risk factors for non-pathological school myopia", Prof. Dr. Virginie Verhoeven (Erasmus University Medical Center, Rotterdam, Netherlands).
"Atropine to slow myopia progression: Current status", Prof. Dr. Jason Yam (Chinese University of Hong Kong, Hong Kong).
"How does atropine excerts its anti-myopia effect?", Prof. Dr. William K. Stell (University of Calgary- Cumming School of Medicine, Calgary, Canada).
"Novel spectacles and contact lenses for myopia control", Prof. Dr. Shi Ming Li (Tongren Hospital Eye Center, Beijing. China).
---
Speakers' resume
In order to access to the speakers´s resume, please click in here.
---
Sponsors